Welcome to the exciting website of Tony Giles – blind world traveller and writer.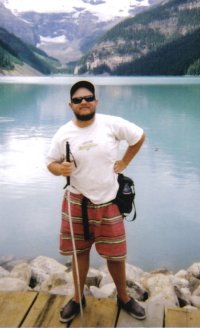 Tony on the shore of Lake Louise in the Rocky Mountains, Alberta, Canada.
I am totally blind and 80% deaf in both ears without my hearing aids. I also had a successful kidney transplant in December 2008. Yet I've visited the World's Seven continents, all fifty states of the USA, crossed the Arctic Circle, travelled in every South American country and visited all ten Canadian provinces.
I originate from Weston-super-Mare, near Bristol, in the South West of England. At present I live in Teignmouth, Devon.
---
I have written and published two Ebooks about my world adventures.
Seeing The World My Way
Published in 2010 and re-published as an Ebook in 2017.
Amazon.co.uk
https://www.amazon.co.uk/Seeing-World-Way-Tony-Giles/dp/1906236380/
iTunes
https://geo.itunes.apple.com/gb/book/seeing-the-world-my-way/id1189073353?mt=11
It is now only available in Ebook, Braille and Daisy formats.
Seeing The Americas My Way
Ebook published September 2016. ISBN 9781912022625.
Amazon.co.uk
https://www.amazon.co.uk/dp/B01M14JY50
iTunes
https://geo.itunes.apple.com/gb/book/seeing-the-americas-my-way/id1155800966?mt=11
They are travel biographies of the observations and experiences of a blind man as he travels around the world having crazy adventures. The first instalment describes my early journeys: out for adventure but consumed by alcohol as a method for dealing with my disabilities.
The second book is a more sober, yet more emotional tale. It highlights my challenges of confronting personal issues whilst travelling.
See more information about my travel Ebooks here:
Tony Giles – Blind Author and Travel Writer.
---
News
(23rd March 2018)
Totally blind and severely deaf! Meet Tony Giles – travelling the world! 🌎🌍🌏✨
A day in a life of travel with Tony and Thor, two world travellers! Sidon, Lebanon, March 2018. Thor has visited 144 countries without flying.
Short Interview For Austrian Radio
(16th February 2018)
Listen to the first part of Tony's interview with Johnny Bliss, for an English-speaking radio show in Vienna, Austria. It's brief but good. The interview occurred on 25th January 2018 in the Plumbers Arms Pub, London, England.
fm4.orf.at/player/20180215/MO/094444000
Another article, but with a slight difference!
(13th February 2018)
Tony was interviewed for the MyDiversability online blog in late January 2018. It's an online blog and website for disabled people in the US, highlighting and showcasing positivity for disabled people, whatever their circumstances and disability. You can read the post here:
http://www.mydiversability.com/blog/2018/1/31/seeing-the-world-the-tony-giles-way
Tony's latest info
(10th February 2018)
Tony is now in Lausanne, Switzerland, preparing to give a talk at the closing ceremony of a student-led event about tourism and travel. Tony was also recently on the Chrissie B Show: a tv programme on Sky, channel 203 about tackling mental health issue and positive action regarding this subject. Tony's story is a positive illustration of what can be overcome and achieved.
Children's Mental Health Week – 'Being Ourselves'
ILTV interview
(11th January 2018)

Watch Tony's recent interview with Israel based English Language news channel ILTV (9th January 2018).
New video…