Welcome to the exciting website of Tony Giles – blind world travel extraordinaire.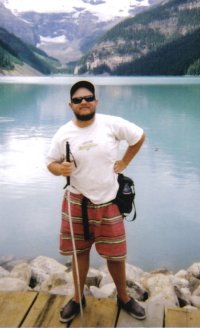 Tony on the shore of Lake Louise in the Rocky Mountains, Alberta, Canada.
I am a young person, totally blind and 80% deaf in both ears without my hearing aids. I also had a successful kidney transplant in December 2008. Yet I've visited the World's Seven continents, all fifty states of the USA, crossed the Arctic Circle, travelled in every South American country and visited all ten Canadian provinces.
I originate from Weston-super-Mare, near Bristol, in the South West of England. At present I live in Teignmouth, Devon.
I have written several books about my world adventures. The books are travel diaries of the observations and experiences of a blind man as he travels around the world.
Other languages: Español, Italiano
What's New (13th December 2017)
---
Travel writing
A new mini-site has been created dedicated to my travel writing: Tony Giles – Blind Author and Travel Writer.
Seeing The World My Way, the first in a trilogy of travel biographies, was published in October 2010. The second part, Seeing The Americas My Way, followed as an ebook in September 2016.
---
News
Watch the first part of the BBC Travel Show documentary
(12th December 2017)
For anyone who missed it, here is the first part of the BBC Travel Show documentary featuring Tony in Jerusalem:
Tony in Jerusalem, BBC Travel Show, part 1
The second part, filmed in Bethlehem, was originally scheduled for broadcast last weekend. It was postponed due to recent events. When a broadcast date is known, we will add details here.
First part of my travel documentary
(2nd December 2017)
Here's the link to the first part of my travel documentary I did with BBC World Travel Show. Hope you enjoy it :), thanks for watching, best, Tony the Traveller.
Tony on BBC World Travel Show
(30th November 2017)
Heads up: I was filmed in Jerusalem and Bethlehem for a documentary for the BBC World Travel Show about how disabled people are able to travel. Here is information about show times and when and where. The Jerusalem feature will be the second half of the programme on Dec 2nd and Dec 3rd. The Bethlehem feature will be the first half of the programme on Dec 9th and Dec 10th.
On the UK BBC News Channel the times will be: Sat – 10.30 Sun – 13.30 and 20.30. On the World BBC News Channel the times will vary depending on time zone. But the times GMT are: Fri: 20.30 Sat 03.30, 13.30, 18.30 and Sun 06.30 & 12.30. It will also be available on the iPlayer in the UK.
A shorter version may also appear on BBC Breakfast over the weekend if there's no big breaking news! :)
I hope everyone can access BBC World some how. I should be getting a Youtube link as soon as it goes live, so watch this space for that.
Thanks for following, and please share this with as many people as possible. Happy travels, Tony the Traveller.
Author of Ebooks:
Seeing The World My Way.
Seeing The Americas My Way.
Relaxing in Nazareth
(24th November 2017)
Evening of Thursday 24th November.
Tony is relaxing in Nazareth, north Jerusalem. He's been there for four nights, staying in Simsin Guesthouse – a friendly small hostel in Nazareth's Old Town. Tony briefly explored the old city on his first afternoon, feeling the old stone walls with his hands and cane and finding many obstacles on the pavements, including parked cars, large rubbish bins, lampposts and many small bollards. Tony found his way to downtown by following the downwards gradient from the old town and asked local pedestrians as he went for directions to Mary's Well/Mary's Square, seeming the city centre. Once there, with help from a kind local, Tony enjoyed a meal in a nearby restaurant before retracing his steps back up the hill and eventually found his accommodation with yet more local help.
Tony has been back in Israel since 10th November. He undertook a brief visit to Jericho in the Palestinian Territory, where along with a couple of German girls he met, ascended to the top of the Mount of Temptation by cable car and climbed a series of steep steps to the Greek Orthodox Church to taste the fresh air and imagine the magnificent views! Atop this mountain is where, apparently, Satan attempted Jesus! Tony also visited and briefly swam in the Jordan River where Jesus was, allegedly, baptised. Tony stripped in the hot sun and stepped into the freezing water for a brief splash before re-ascending the wooden steps and drying off. He was accompanied by a family from Chile who were also touring Israel for several weeks.
Tony continued his travels around Israel, heading south to the small Kibbutz of Ein Gedi, where he stayed at a very basic camp lodge for a few days before first exploring the fortress desert castle of Masada and then continuing on to both Beer Sheba and going further south to the large Makhtesh Ramon crater at Mitzpe Ramon. The almost complete silence inside the crater and in the small town of Mitzpe Ramon itself was breathtaking and felt somewhat spiritual.
After one final night in Nazareth, Tony heads to the ancient Roman city of Tiberias on the banks of the Sea of Galilee for a few days before beginning his exploration of the Med coast, starting in Nahariya and ending in Tel Aviv.
Palestinian Territories, country 125
(9th November 2017)
Tony is in the Palestinian Territories, country 125. He returns to Jerusalem, Israel tomorrow, 9th November 2017 and continues travels in Israel.
Country 124
(31st October 2017)
Tony is now in Jerusalem, capital and largest city of Israel. This is country 124 for Tony!
New video interview
(25th October 2017)
Watch a video interview with Tony filmed for the InspireMore blog in Jerash, Jordan. Highly recommended!
New video…
---
Tony's books and ebooks
Seeing The Americas My Way
NEW! Published September 2016
Tony's second fascinating travel biography offers a more sensory observation of backpacking. From the sounds, smells and cuisine of Brazil and Argentina to the rhythm of salsa in Cuba. Mexico, Chile and Uruguay are also briefly explored.
Whilst there are the usual adrenaline fuelled activities associated with this author in the United States and Canada, the main thread of the story deals with a personal challenge of compromising between love and friendship.
It is a journey of self-discovery with a focus on spartan nature and isolation as a guidance to help the author resolve his emotional problems.
Continue following Tony's unique wanderings to discover where he will lead you!
Ebook published September 2016. ISBN 9781912022625.
Available from Amazon (Kindle), Apple, Kobo and Google Play.
Seeing The World My Way
A totally blind and partially deaf guy's global adventures
Seeing the World My Way follows Tony Giles' journey of hedonism and thrill-seeking adventure as he travels across North America, Asia and Australasia. Full of drama, danger and discovery, this fascinating travel biography is a young blind man's view of the world as he sets out to achieve his dream, dealing with disability whilst living life to the limit.
From bungee jumping in New Zealand to booze filled nights out in New Orleans, Seeing the World My Way is a no-holds-barred account that is certainly not for the faint hearted. Travel the world in a whole new way with Tony Giles' frank, honest and exhilarating romp through one adrenaline-fuelled experience after another.
Ebook (second edition) published December 2016. Available from all major ebook stores, including Amazon.co.uk, Apple iTunes and Google Play.
A Polish language print edition can be purchased from Prószyński Media. Braille and audio Daisy format editions can be loaned or purchased from the RNIB.
Seeing the World My Way was first published in November 2010 as a paperback by SilverWood Originals. ISBN 978-1-906236-38-0. 224 pages. This edition is now out of print.