Welcome to the exciting website of Tony Giles – blind world travel extraordinaire.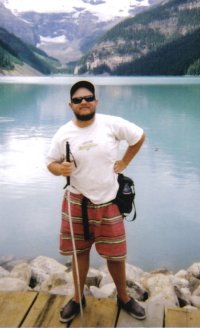 Tony on the shore of Lake Louise in the Rocky Mountains, Alberta, Canada.
I am a young person, totally blind and 80% deaf in both ears without my hearing aids. I also had a successful kidney transplant in December 2008. Yet I have visited all seven of the World's continents. I have completed the goal of visiting all fifty states of the USA. I have also crossed the Arctic Circle, visited every country in South America, and all 10 Canadian provinces.
I originate from Weston-super-Mare, near Bristol, in the South West of England. At present I live in Teignmouth, Devon.
I have written several books about my world adventures. The books are travel diaries of the observations and experiences of a blind man as he travels around the world.
Other languages: Español, Italiano
What's New (25th November 2013)
---
News
New blog post – 25th November
Read Tony's latest blog post from Kenya here.
Update from Jinja, Uganda – 13th November
Tony is now in Jinja, Uganda, the activity capital of East Africa. Before Jinja he was in Kampala, Uganda's capital. He visited an orphanage and bought beans and posho to make porridge, for 600 kids! Tony has just bungee jumped into the River Nile and got his head wet! 44 metres, 145 feet bungee over the worlds longest river. The day before, Tony and Meddy, a lovely young guy from Jinja visited the source of the Nile, where it meets Lake Victoria, Africa's largest lake. Tony is heading to Nkuru, Kenya tomorrow. 
Photos added HERE.
Uganda, country 86 – 7th November
Tony is now in Uganda, country 86. After entering into Kisoro from Rwanda, he's visited the Rwensori Mountains where he camped for 2 nights and did a day hike. Then he visited Queen Elizabeth National Park for a boat ride with hippos, crocodiles and buffalo for company! Tony has just arrived in Fort Portal and is going to Lake Nkuruba Nature Reserve on Enfusi Community Campsite.
Rwanda – 2nd November
Tony has just left Rwanda after five wonderful days in that gentle country. He is now in Kisoro, far western Uganda. He is about to head into the mountains.
Tony spent a couple of days in Gitarama, south central Rwanda and did a Azizi Life Experience Tour. This is where you visit a local village and do chores, which the local women – who are weavers by trade – do every day. Tony cut grass to feed a cow, houghed in a coffee planted field, helped collect water and in the afternoon, made his own bracelet with the string of an Imigwegwe plant. Next he headed to Kigali, Rwanda's capital where he couch surfed and visited the Genocide war memorial to the Rwandan 1994 genocide. There many different gardens of remembrance, a very moving place. Lastly, Tony spent a night with a lovely local family in Musanze, and visited the large caves.
Update – 28th October
Tony is now in Gitarama (Muhanga) Rwanda, East Africa.
He has just spent 3 interesting days in Burundi.
These are two small former Belgium colonies, now independent countries in East Africa. They are located between Tanzania, DRC and Uganda.
Tony at Lake Tanganyika – 20th October
Tony is now on Lake Tanganyika at Lake Shore Lodge, very near Kipili Village. A very remote place. He crossed Tanzania east to west and arrived on Friday 18th October. He leaves for the north on Monday. Next country will be Burundi.  
Tanzania – 12th October
Tony is now in Morogoro, central Tanzania. Read his latest blog here.
Travels in Africa – 5th October
Tony landed in Dar Es Salaam, Tanzania on Wednesday 26th September. He'll be travelling around Tanzania, Burundi, Rwanda, Democratic Republic of Congo, Uganda, Kenya and Ethiopia. He returns to the UK on 12th December. He can be contacted via this website or by Facebook whilst travelling. Follow blog updates very soon.
UPDATE: read Tony's latest blog here.
Excellent review of 'Seeing the World My Way' – 27th February
(5 stars)
I received a copy of this book from the author in return for an honest review.

I'm not a huge fan of biographies, so when I was approached to review this one, I was somewhat reluctant. However, I thought to myself, "Why not try something different, and keep an open mind." So that's what I did, and I am very happy to report that I absolutely loved this story!

Usually, I find biographies extremely boring. However, I found myself completely transfixed by this amazing person and his exploits. I even forgot that Tony Giles has a hearing and sight disability. To travel the world on your own takes guts, and I'm ashamed to say I don't have any. However, Tony Giles seems to have a thirst for adventure, and is willing to take a chance to experience life to the fullest. His descriptions of places and events are extremely vivid, and I could easily see him as he travelled through America, Australia, New Zealand and Thailand. I could tell that he loves history, and has a keen interest in warfare. This comes through his various visits to war museums and his descriptions of various war machines during his travels. He also is a bit of an adrenalin junkie. He made me feel exhausted with all the activities he had planned, and participated in! His descriptions of the countries, and places within them, made me want to go visit them.

Tony Giles has written an amazing account of his travels. I have nothing but the utmost respect for him. I wish him all the best for any future travels he has planned, and hope he gets to visit some of the places he still wants to go to.

I highly recommend this book to everyone, even if you don't like biographies, because this is one person who has inspired me to try something different. I'm going to try to be a bit more adventurous in the future, and take a chance to do something I have always wanted to do – take a trip on a cruise ship to see the Northern Lights. – Lynn Worton
Source: Amazon.co.uk
Seeing the World My Way e-book
The Kindle version of Tony's book Seeing the World My Way is now priced at just £1.85 on amazon.co.uk.
It's also available on Amazon.com.
Polish language edition of Seeing the World My Way now published
A Polish language edition of Tony's book is now available. More information can be found on the publisher's website: Prószyński Media.
Copies can be purchased from the following Polish bookstores:
EMPIK: http://www.empik.com/…
MERLIN: http://merlin.pl/…
MATRAS: http://www.matras.pl/…
New video…
---
Tony's first book available NOW!
Seeing The World My Way
A totally blind and partially deaf guy's global adventures
Seeing the World My Way follows Tony Giles' journey of hedonism and thrill-seeking adventure as he travels across North America, Asia and Australasia. Full of drama, danger and discovery, this fascinating travel biography is a young blind man's view of the world as he sets out to achieve his dream, dealing with disability whilst living life to the limit.
From bungee jumping in New Zealand to booze filled nights out in New Orleans, Seeing the World My Way is a no-holds-barred account that is certainly not for the faint hearted. Travel the world in a whole new way with Tony Giles' frank, honest and exhilarating romp through one adrenaline-fuelled experience after another.
Paperback published by SilverWood Originals. Price £8.99. ISBN 978-1-906236-38-0. 224 pages.
Seeing The World My Way is now available to order from most bookshops, on Amazon, and directly from the publisher at silverwoodbooks.co.uk/my-way.
The e-book is available from BristoleBooks, and also on Amazon.
UPDATE: Now available in Braille from the RNIB Library.
READ PRESS RELEASE.
All money Tony receives will go direct to a charity for people with Muscular Dystrophy.