Welcome to the exciting website of Tony Giles – blind world traveller and writer.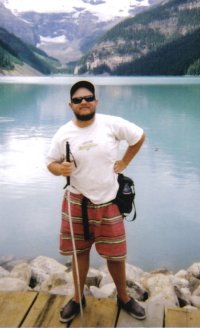 Tony on the shore of Lake Louise in the Rocky Mountains, Alberta, Canada.
I am totally blind and 80% deaf in both ears without my hearing aids. I also had a successful kidney transplant in December 2008. Yet I've visited the World's Seven continents, all fifty states of the USA, crossed the Arctic Circle, travelled in every South American country and visited all ten Canadian provinces.
I originate from Weston-super-Mare, near Bristol, in the South West of England. At present I live in Teignmouth, Devon.
---
I have written and published two Ebooks about my world adventures.
Seeing The World My Way
Published in 2010 and re-published as an Ebook in 2017.
Amazon.co.uk
https://www.amazon.co.uk/dp/B01NAMEO2B
iTunes
https://geo.itunes.apple.com/gb/book/seeing-the-world-my-way/id1189073353?mt=11
It is now only available in Ebook, Braille and Daisy formats.
Seeing The Americas My Way
Ebook published September 2016. ISBN 9781912022625.
Amazon.co.uk
https://www.amazon.co.uk/dp/B01M14JY50
iTunes
https://geo.itunes.apple.com/gb/book/seeing-the-americas-my-way/id1155800966?mt=11
They are travel biographies of the observations and experiences of a blind man as he travels around the world having crazy adventures. The first instalment describes my early journeys: out for adventure but consumed by alcohol as a method for dealing with my disabilities.
The second book is a more sober, yet more emotional tale. It highlights my challenges of confronting personal issues whilst travelling.
See more information about my travel Ebooks here:
Tony Giles – Blind Author and Travel Writer.
---
News
Tony enjoying a traditional Nuba drum and dance ceremony in Omdurman
(8th April 2019)
Tony enjoying a traditional Numba drum and dance ceromony in Ondurman, Khartoum, Sudan
The sounds of the drums and singing/chanting by local Nuba people on a Friday afternoon/evening in Omdurman, the Islamic city of Khartoum. This is a religious event with locals sending offerings to God through their singing, drumming and dance. The Nuba or Sufi dance includes whirling Dervishes and fire dancers.
Tony's continuing travels
(27th March 2019)
Tony has recently arrived in the mountainous, East African country of Eritrea, country 119. Happy travels and thanks for following. Tony
Video – Pyramid of Userkaf, Saqqara, Egypt
(4th March 2019)
Tony in ancient pyramid, Saqqara, Egypt
Tony walking through a low and narrow passage leading from the tomb inside the Pyramid of Userkaf, to the outside. The large burial chamber is located at Saqqara, ancient Necropolis of Memphis, on the west bank of the River Nile, south of Cairo. The tomb is empty, but carvings are visible on the inner walls. A steep slope leads downwards from the entrance at a steep angle into the tomb.
Riding a Felucca on the river Nile
(27th February 2019)
Tony with Tatiana, enjoying a ride on the River Nile
Tony and his Greek girlfriend/partner riding a Felucca, a traditional Egyptian sailboat on the river Nile in Cairo, capital of Egypt. A lovely way to spend an hour or two :)
Tony continuing his Felucca journey!
The journey along the Nile continued. Central Cairo with its Garden City on one side and Giza with its ancient pyramids on the other bank.
Tony steering the Felucca, mid stream!
Tony is holding the large wooden rudder of the Felucca and, with the captain's help, is kind of steering the Felucca south along the Nile, in the rough direction of Luxor and, eventually after 900 kilometres or so, Aswan!
Ascend Podcast
(11th February 2019)
Tony recently recorded this interesting 30 minute interview for the Ascend Podcast.
(Blind Man) Traveling The World Solo – Tony Giles | AP145
Downloadable audio version and more details on the Ascend Podcast website.
Videos at Pulang Bato Falls, Dumaguete, Negros Island, Philippines
(5th February 2019)
Tony at PULANG BATO Falls, Dumaguete, Negros Island, Philippines
This is the first video at Pulang Bato (Red Rock) Falls, near Dumaguete City, in the south part of Negros Island, central Philippines. It's an easy waterfall to reach by motorbike and has easy access down concrete steps and rocks. Crossing the river to get closer to the falls is slightly tricky, as the rocks are slippery, but not really difficult. There are few people on a weekday and the sound of the falls is wonderful. The smell from the nearby hot springs is strong!
Tony almost in the falls!
A very close-up view and audio of this wonderful waterfall. Tony crossed the river with help, slipping on boulders and rocks, but it was worth it for the view and sound :). This is what travelling is all about!
Tony at Kawasan Falls, Badian, Cebu Island, Philippines
(28th January 2019)
Tony, blind, crazy, world traveller, in the pool with locals, at Kawasan Falls near the town of Badian on the south coast of Cebu Island, Vasayas, Central Philippines. The sound of the 60 metre waterfall plunging down the mountain into the pool is exhilarating!
Tony at Kawasan Falls, Badian, Cebu Island, Philippines
Annaba music
(23rd December 2018)
A local singer/guitarist performing in a downtown cafe in Annaba, northeast Algeria on a late Tuesday afternoon, Tony and other locals in attendance.
New video…