Welcome to the exciting website of Tony Giles – blind world travel extraordinaire.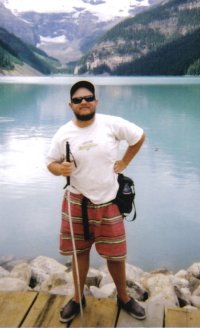 Tony on the shore of Lake Louise in the Rocky Mountains, Alberta, Canada.
I am a young person, totally blind and 80% deaf in both ears without my hearing aids. I also had a successful kidney transplant in December 2008. Yet I have visited all seven of the World's continents. I have completed the goal of visiting all fifty states of the USA. I have also crossed the Arctic Circle, visited every country in South America, and all 10 Canadian provinces.
I originate from Weston-super-Mare, near Bristol, in the South West of England. At present I live in Teignmouth, Devon.
I have written several books about my world adventures. The books are travel diaries of the observations and experiences of a blind man as he travels around the world.
Other languages: Español, Italiano
What's New (27th February 2015)
---
Travel writing
A new mini-site has been created dedicated to my travel writing: Tony Giles – Blind Author and Travel Writer.
Seeing The World My Way, the first in a trilogy of travel biographies, was published in October 2010. I plan to self-publish my second book, travels in north-south America, later this year.
---
News
New blog post: More adventures
(27th March 2015)
Read it here.
New blog post: Papua New Guinea – continued
(21st March 2015)
Read it here.
New blog post: Country 99, Papua New Guinea
(9th March 2015)
Read it here.
Indonesia
(27th February 2015)
Tony is now in Indonesia, his 98th country. After flying from London to Jakarta, with a brief stop in Amsterdam, he relaxed at the wonderful Six Degree Hostel. Tony visited the main square and national monument with three cool Spanish guys he met and ate Nasi Goreng – fried rice. Then he flew to Jayapura, capital of Papua Province – the easternmost part of Indonesia. So the couch surfing has begun! Tony has been staying with a lovely family, his host named Indra. Along with two other nice Papuan guys, Raymond and Edwin, they visited the General Douglas MacArthur Monument (Ifar Gunung). This is where the Americans and Japanese fought in 1944. A beautiful place with good views of the area on the mountains.
Now Tony is in Wamena, capital of Baliem Valley, in the Papua highlands. He is staying with a local guy, Raymond. Visiting villages and exploring the local Dani and culture.
Some photos here.
Update
(22nd February 2015)
Tony is now in Indonesia. The trip has begun!
Latest adventure
(17th February 2015)
Tony is just about to depart for 3 months of extensive travels in Indonesia, Papua New Guinea, Malaysia, Brunei and Singapore. Three months of journeying in the heat, jungles, mountains and volcanoes, islands, along the Equator.
E-book from Kobo
(13th January 2015)
Tony's first book Seeing the World My Way is available as an e-book in EPUB format from the Kobo website. Details here.
It is also still available to purchase as a Kindle e-book from Amazon.co.uk and as a paperback from all good book shops.
New video…
---
Tony's first book available NOW!
Seeing The World My Way
A totally blind and partially deaf guy's global adventures
Seeing the World My Way follows Tony Giles' journey of hedonism and thrill-seeking adventure as he travels across North America, Asia and Australasia. Full of drama, danger and discovery, this fascinating travel biography is a young blind man's view of the world as he sets out to achieve his dream, dealing with disability whilst living life to the limit.
From bungee jumping in New Zealand to booze filled nights out in New Orleans, Seeing the World My Way is a no-holds-barred account that is certainly not for the faint hearted. Travel the world in a whole new way with Tony Giles' frank, honest and exhilarating romp through one adrenaline-fuelled experience after another.
Paperback published by SilverWood Originals. Price £8.99. ISBN 978-1-906236-38-0. 224 pages.
Seeing The World My Way is available to order from most bookshops, on Amazon, and directly from the publisher at silverwoodbooks.co.uk/my-way.
An e-book is also available. It can be purchased in Kindle format from Amazon.co.uk for just £2.16. If you live outside the UK, the e-book is also available on Amazon.com, and other Amazon country sites. It is available in EPUB format from Kobo.
Available in Braille from the RNIB Library. More details here.
All money Tony receives will go direct to a charity for people with Muscular Dystrophy.