Welcome to the exciting website of Tony Giles – blind world travel extraordinaire.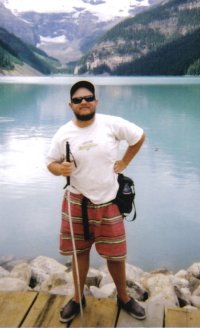 Tony on the shore of Lake Louise in the Rocky Mountains, Alberta, Canada.
I am a young person, totally blind and 80% deaf in both ears without my hearing aids. I also had a successful kidney transplant in December 2008. Yet I have visited all seven of the World's continents. I have completed the goal of visiting all fifty states of the USA. I have also crossed the Arctic Circle, visited every country in South America, and all 10 Canadian provinces.
I originate from Weston-super-Mare, near Bristol, in the South West of England. At present I live in Teignmouth, Devon.
I have written several books about my world adventures. The books are travel diaries of the observations and experiences of a blind man as he travels around the world.
Other languages: Español, Italiano
What's New (15th May 2013)
---
News
Eyes On Success interview – 15th May
Listen to a new 25-minute interview with Tony. It was recorded for the Eyes On Success radio programme. The show is based in the US and is targeted at visually impaired/blind people. The interview took place in late December and it was broadcast recently.
Download or listen at the following MP3 link: Eyes On Success show #1319
Visit the Eyes On Success website for more information.
Updates from Tony – 15th May
Tony has now visited 82 countries/nations. Tony and Tatiana recently explored the Channel Islands of Jersey and Guernsey in the English Channel. The islands are independent from the United Kingdom and have been since 1204.
Tony and Tatiana spent a lovely weekend in the beautiful Greek island of Santorini from 18-21st April. They are now back in Athens, Greece.
Tony is continuing to edit his second travel book.
Update – 12th April
Tony is now in Athens Greece.
Excellent review of 'Seeing the World My Way' – 27th February
(5 stars)
I received a copy of this book from the author in return for an honest review.

I'm not a huge fan of biographies, so when I was approached to review this one, I was somewhat reluctant. However, I thought to myself, "Why not try something different, and keep an open mind." So that's what I did, and I am very happy to report that I absolutely loved this story!

Usually, I find biographies extremely boring. However, I found myself completely transfixed by this amazing person and his exploits. I even forgot that Tony Giles has a hearing and sight disability. To travel the world on your own takes guts, and I'm ashamed to say I don't have any. However, Tony Giles seems to have a thirst for adventure, and is willing to take a chance to experience life to the fullest. His descriptions of places and events are extremely vivid, and I could easily see him as he travelled through America, Australia, New Zealand and Thailand. I could tell that he loves history, and has a keen interest in warfare. This comes through his various visits to war museums and his descriptions of various war machines during his travels. He also is a bit of an adrenalin junkie. He made me feel exhausted with all the activities he had planned, and participated in! His descriptions of the countries, and places within them, made me want to go visit them.

Tony Giles has written an amazing account of his travels. I have nothing but the utmost respect for him. I wish him all the best for any future travels he has planned, and hope he gets to visit some of the places he still wants to go to.

I highly recommend this book to everyone, even if you don't like biographies, because this is one person who has inspired me to try something different. I'm going to try to be a bit more adventurous in the future, and take a chance to do something I have always wanted to do – take a trip on a cruise ship to see the Northern Lights. – Lynn Worton
Source: Amazon.co.uk
Seeing the World My Way e-book
The Kindle version of Tony's book Seeing the World My Way is now priced at just £1.85 on amazon.co.uk.
It's also available on Amazon.com.
Polish language edition of Seeing the World My Way now published
A Polish language edition of Tony's book is now available. More information can be found on the publisher's website: Prószyński Media.
Copies can be purchased from the following Polish bookstores:
EMPIK: http://www.empik.com/…
MERLIN: http://merlin.pl/…
MATRAS: http://www.matras.pl/…
New video…
---
Tony's first book available NOW!
Seeing The World My Way
A totally blind and partially deaf guy's global adventures
Seeing the World My Way follows Tony Giles' journey of hedonism and thrill-seeking adventure as he travels across North America, Asia and Australasia. Full of drama, danger and discovery, this fascinating travel biography is a young blind man's view of the world as he sets out to achieve his dream, dealing with disability whilst living life to the limit.
From bungee jumping in New Zealand to booze filled nights out in New Orleans, Seeing the World My Way is a no-holds-barred account that is certainly not for the faint hearted. Travel the world in a whole new way with Tony Giles' frank, honest and exhilarating romp through one adrenaline-fuelled experience after another.
Paperback published by SilverWood Originals. Price £8.99. ISBN 978-1-906236-38-0. 224 pages.
Seeing The World My Way is now available to order from most bookshops, on Amazon, and directly from the publisher at silverwoodbooks.co.uk/my-way.
The e-book is available from BristoleBooks, and also on Amazon.
UPDATE: Now available in Braille from the RNIB Library.
READ PRESS RELEASE.
All money Tony receives will go direct to a charity for people with Muscular Dystrophy.