Welcome to the exciting website of Tony Giles – blind world travel extraordinaire.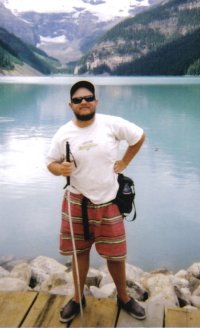 Tony on the shore of Lake Louise in the Rocky Mountains, Alberta, Canada.
I am a young person, totally blind and 80% deaf in both ears without my hearing aids. I also had a successful kidney transplant in December 2008. Yet I've visited the World's Seven continents, all fifty states of the USA, crossed the Arctic Circle, travelled in every South American country and visited all ten Canadian provinces.
I originate from Weston-super-Mare, near Bristol, in the South West of England. At present I live in Teignmouth, Devon.
I have written several books about my world adventures. The books are travel diaries of the observations and experiences of a blind man as he travels around the world.
Other languages: Español, Italiano
What's New (14th November 2016)
---
Travel writing
A new mini-site has been created dedicated to my travel writing: Tony Giles – Blind Author and Travel Writer.
Seeing The World My Way, the first in a trilogy of travel biographies, was published in October 2010. The second part, Seeing The Americas My Way, followed as an ebook in September 2016.
---
News
Seeing The World My Way second edition planned
(14th November 2016)
Tony's first book Seeing The World My Way is at present out of print. A second English edition is planned for release in early-mid December 2016.
Cook Islands next
(1st November 2016)
Tony and Tatiana rocking and rolling on a bus in North Island, NZ. Heading to Auckland to jump on a flight to Rarotonga, largest island of Cook Islands. This will be Tony's 117th country visited! :)
Now in New Zealand
(19th October 2016)
Tony landed in Wellington NZ Wednesday night, 19th October. Begins travels of North Island of New Zealand with Tatiana :)
Australian TV interview
(11th October 2016)
On Sunday night (9th October 2016) Tony appeared on The Couch.
Watch it here:

The Couch is a TV chat show based in Perth, Australia.
Simon Fenton
(5th October 2016)
Simon runs a guesthouse and leads tours around southern Senegal as well as writing about his work there. Check out his latest book here: Chasing Hornbills
For more information and his other work please check: www.thelittlebaobab.com
Kazakhstan conference
(22nd September 2016)
Tony has visited Kazakhstan for an interesting conference on 'social tourism' inclusive tourism for all, disabled or not. This is country 116 :)
Blog by new blind traveller
(1st September 2016)
Great to discover a website and blog by a new blind traveller from Australia. Visit Blind As A Backpack.
Also see this page where Tony is mentioned as one of their inspirations.
New video…
---
Tony's books and ebooks
Seeing The Americas My Way
NEW! Published September 2016
Tony's second fascinating travel biography offers a more sensory observation of backpacking. From the sounds, smells and cuisine of Brazil and Argentina to the rhythm of salsa in Cuba. Mexico, Chile and Uruguay are also briefly explored.
Whilst there are the usual adrenaline fuelled activities associated with this author in the United States and Canada, the main thread of the story deals with a personal challenge of compromising between love and friendship.
It is a journey of self-discovery with a focus on spartan nature and isolation as a guidance to help the author resolve his emotional problems.
Continue following Tony's unique wanderings to discover where he will lead you!
Ebook published September 2016. ISBN 9781912022625.
Available from Amazon (Kindle), Apple, Kobo and Google Play.
Seeing The World My Way
A totally blind and partially deaf guy's global adventures
Seeing the World My Way follows Tony Giles' journey of hedonism and thrill-seeking adventure as he travels across North America, Asia and Australasia. Full of drama, danger and discovery, this fascinating travel biography is a young blind man's view of the world as he sets out to achieve his dream, dealing with disability whilst living life to the limit.
From bungee jumping in New Zealand to booze filled nights out in New Orleans, Seeing the World My Way is a no-holds-barred account that is certainly not for the faint hearted. Travel the world in a whole new way with Tony Giles' frank, honest and exhilarating romp through one adrenaline-fuelled experience after another.
Paperback first published November 2010 by SilverWood Originals. ISBN 978-1-906236-38-0. 224 pages.
Seeing The World My Way is at present out of print, and only available in the Polish edition, plus Braille and audio Daisy format to both loan and buy from the RNIB. A second English edition is planned for release in early-mid December 2016.