Welcome to the exciting website of Tony Giles – blind world travel extraordinaire.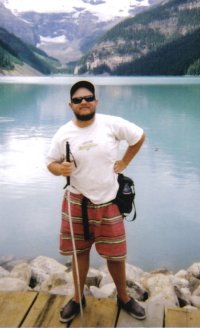 Tony on the shore of Lake Louise in the Rocky Mountains, Alberta, Canada.
I am a young person, totally blind and 80% deaf in both ears without my hearing aids. I also had a successful kidney transplant in December 2008. Yet I have visited all seven of the World's continents. I have completed the goal of visiting all fifty states of the USA. I have also crossed the Arctic Circle, visited every country in South America, and all 10 Canadian provinces.
I originate from Weston-super-Mare, near Bristol, in the South West of England. At present I live in Teignmouth, Devon.
I have written several books about my world adventures. The books are travel diaries of the observations and experiences of a blind man as he travels around the world.
Other languages: Español, Italiano
What's New (25th July 2014)
---
Travel writing
A new mini-site has been created dedicated to my travel writing: Tony Giles – Blind Author and Travel Writer.
Seeing The World My Way, the first in a trilogy of travel biographies, was published in October 2010. I plan to self-publish my second book, travels in north-south America, later this year.
---
News
Update
(28th July 2014)
Tony is now in Lithuania dancing in night clubs in Vilnius, the capital city with its many churches and has now travelled by train to Kaunas, the second city and once briefly capital of Lithuania between 1918-1940. Tony also visited the KGB museum in Vilnius – fascinating and terrifying!
Tony in Poland
(13th July 2014)
Tony and Tatiana are travelling around Poland promoting his book. Interviews with journalists and TV occurring soon.
Choice Words, AMI-audio, Canada
(12th June 2014)
New radio programme on the theme of accessible travel. Includes excerpts from Tony's book. Highly recommended!
More details on the AMI-audio website.
Listen here:

Back home
(12th June 2014)
I'm now safely home in my small seaside apartment in wonderful Devon, UK. I've just finished a fascinating and eventful trip through Greece, Turkey, Romania, Ukraine and Republic of Moldova. Some journeys were undertaken with beautiful Tatiana and others were conducted alone. Thank you to all the kind and wonderful people I've met for helping make the journey fun and interesting. Thanks for your kindness and friendship along the way. Happy adventures to one and all.
So now it's a brief rest before it all begins again, this time starting in Berlin, Germany!
Back in Bucharest
(9th June 2014)
Now back in Bucharest after a fascinating trip. I've visited Chernivtsi, Ukraine, it is also called Cernau in Romania. A historical city about three hours bus ride north-east of Suceava, Romania. After three days there I headed to my 94th country, Republic of Moldova. I stayed in Chisinau, the country's capital. It's about a 7-9 hour night bus ride from Chernivtsi. Nice quiet people and little to do or see. Some lovely parks, an orthodox church, a triumphal arch and several bars-restaurants-clubs. I spent one day travelling to a town called Orhiel Vec to visit a historical monastery and church in a cave with a spectacular view of a river. The day was very hot and I was travelling with my backpack. On the climb down I took a wrong turn and walked about 2 km in the wrong direction in countryside along rough road/tracks with small houses and cows, goats and chickens before stopping a passing car whose driver gave me a ride back to the bus stop, where I caught the return bus to Chisinau. Crossing a street to catch a minibus to the large bus station, a bus/truck ran over my stick and bent the end. I was unharmed and continue my journey. Five hours later I was deposited in Iași, Romania (pronounced Yash). The bus driver actually drove along one of the old main streets and dropped me outside my accommodation. Iași is a lively student city and former capital of Romania. It's on seven hills and the parks are delightful. The main attraction seems to be the Palace of Culture with its museums. A concert seemed to be occurring during my brief visit. I met up with a couple of friends I'd met in Bucharest before catching a night train back to Bucharest. In two days I fly back to England.
Transylvania
(2nd June 2014)
After leaving Brașov, I headed to Sighișoara, another historical Saxon town. I stayed in a hotel near the train/bus station although the staff didn't speak any English! An afternoon was spent exploring the historical citadel with its clock tower, which I climbed. There is also a Germanic church from 1298 and wooden covered stairs which eventually lead to a church on the hill.
My next destination was Cluj. The bus for some reason was gone so I took a very slow and hot train to Cluj-Napoca, Transylvania's largest city. A university town with large squares and many activities. My first evening was spent with a Dutch backpacker and Larisa, a local girl, sampling the sights and enjoying the evening sun. The following two evenings were spent absorbing local music and entertainment. On my final day, I took a bus to Turda – a historical town with a large salt mine. The mine was used and built between 1690-1930 for mining salt for the Austrian empire. Some of the tunnels are named after Austrian royalty. It was really cool, 12 degrees in the mine and my guide and I descended to a depth of 120 metres (400 feet) during my tour. At the mine's lowest level is a lake and an island with rides available in plastic canoes. Much of the salt is crystallised and the echo in some of the chambers is tremendous.
After Cluj, I visited Sighetu Marmației near the Ukrainian border. Again a hostel with no English speaking staff. I met some more backpackers and spent a day exploring the city centre, visiting the former prison, now a museum to those who were political prisoners and died during the Communist period. I also briefly visited Eli Weseler's house, now a museum to the Jews. I then attempted to travel to Suceava, but the only bus of the day was full. Eventually I learnt a night train was available with a change in Salva during the night.
In the early hours of Friday I arrived in Suceava and headed 7 km out in the suburbs to stay at a lovely family run hostel in the countryside. The couple of course spoke no English but were kind and helped me organise a tour to visited the painted monasteries. With rain in the air and mist on the horizon, my guide and I drove around the area visiting four historical 15-16th monasteries, and I had their paintings on both exterior and interior described. Biblical scenes of Jesus on his journey to the crucifixion and resurrection, a last judgement scene, and in one church, the siege of Constantinople in one scene! At last, I boarded a bus and three hours later crossed into Ukraine at the city of Chernivtsi, where I now reside. More to follow later.
New video…
---
Tony's first book available NOW!
Seeing The World My Way
A totally blind and partially deaf guy's global adventures
Seeing the World My Way follows Tony Giles' journey of hedonism and thrill-seeking adventure as he travels across North America, Asia and Australasia. Full of drama, danger and discovery, this fascinating travel biography is a young blind man's view of the world as he sets out to achieve his dream, dealing with disability whilst living life to the limit.
From bungee jumping in New Zealand to booze filled nights out in New Orleans, Seeing the World My Way is a no-holds-barred account that is certainly not for the faint hearted. Travel the world in a whole new way with Tony Giles' frank, honest and exhilarating romp through one adrenaline-fuelled experience after another.
Paperback published by SilverWood Originals. Price £8.99. ISBN 978-1-906236-38-0. 224 pages.
Seeing The World My Way is available to order from most bookshops, on Amazon, and directly from the publisher at silverwoodbooks.co.uk/my-way.
A Kindle download is also available. It can be purchased for just £1.85 on Amazon.co.uk. If you live outside the UK the e-book is also available on Amazon.com and other Amazon country sites.
Available in Braille from the RNIB Library. More details here.
All money Tony receives will go direct to a charity for people with Muscular Dystrophy.