Welcome to the exciting website of Tony Giles – blind world travel extraordinaire.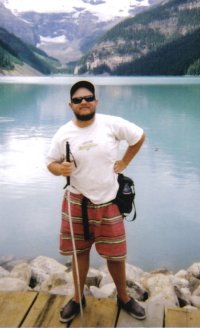 Tony on the shore of Lake Louise in the Rocky Mountains, Alberta, Canada.
I am a young person, totally blind and 80% deaf in both ears without my hearing aids. I also had a successful kidney transplant in December 2008. Yet I have visited all seven of the World's continents. I have completed the goal of visiting all fifty states of the USA. I have also crossed the Arctic Circle, visited every country in South America, and all 10 Canadian provinces.
I originate from Weston-super-Mare, near Bristol, in the South West of England. At present I live in Teignmouth, Devon.
I have written several books about my world adventures. The books are travel diaries of the observations and experiences of a blind man as he travels around the world.
Other languages: Español, Italiano
What's New (27th February 2015)
---
Travel writing
A new mini-site has been created dedicated to my travel writing: Tony Giles – Blind Author and Travel Writer.
Seeing The World My Way, the first in a trilogy of travel biographies, was published in October 2010. I plan to self-publish my second book, travels in north-south America, later this year.
---
News
Indonesia
(27th February 2015)
Tony is now in Indonesia, his 98th country. After flying from London to Jakarta, with a brief stop in Amsterdam, he relaxed at the wonderful Six Degree Hostel. Tony visited the main square and national monument with three cool Spanish guys he met and ate Nasi Goreng – fried rice. Then he flew to Jayapura, capital of Papua Province – the easternmost part of Indonesia. So the couch surfing has begun! Tony has been staying with a lovely family, his host named Indra. Along with two other nice Papuan guys, Raymond and Edwin, they visited the General Douglas MacArthur Monument (Ifar Gunung). This is where the Americans and Japanese fought in 1944. A beautiful place with good views of the area on the mountains.
Now Tony is in Wamena, capital of Baliem Valley, in the Papua highlands. He is staying with a local guy, Raymond. Visiting villages and exploring the local Dani and culture.
Some photos here.
Update
(22nd February 2015)
Tony is now in Indonesia. The trip has begun!
Latest adventure
(17th February 2015)
Tony is just about to depart for 3 months of extensive travels in Indonesia, Papua New Guinea, Malaysia, Brunei and Singapore. Three months of journeying in the heat, jungles, mountains and volcanoes, islands, along the Equator.
E-book from Kobo
(13th January 2015)
Tony's first book Seeing the World My Way is available as an e-book in EPUB format from the Kobo website. Details here.
It is also still available to purchase as a Kindle e-book from Amazon.co.uk and as a paperback from all good book shops.
Information update
(18th November 2014)
The Polish addition of Tony's first book has sold 1,700 copies in Poland Information and updates on the second travel book to follow soon!
Next adventure
(3rd October 2014)
Tony is off to his next adventure: Azerbaijan, country 97!
Women's Aid SOS Campaign
(3rd October 2014)
http://www.womensaid.org.uk/sos
Last week we had an amazing SOS campaign success when the Labour Party's Shadow Home Secretary, Yvette Cooper MP, committed to supporting our national network of refuges in her Party Conference Speech. This was directly off the back of the SOS Campaign and an incredible win that we can all share.
This week we took the SOS campaign to the Conservative Party Conference and again had an extremely positive response.
At our Conference fringe event – Women's Aid in Conversation with the Conservative Party – we updated Maria Miller MP about the SOS campaign and the overwhelming support that has been shown through our online petition. Maria Miller is going to discuss the SOS campaign with her colleagues and help us to secure further conversations with the Conservative Party about protecting our national network of refuges.
We also met with the Chair of the Conservative Women's Organisation who is very supportive of the SOS campaign and has pledged to see how we can work together to protect our life-saving refuges.
This is fantastic news for the SOS campaign and a huge part of that is down to the amazing support that we have had from you – our petition signatories! These positive meetings and promises will really help us to move the SOS campaign forward with the Conservative Party and brings us closer to securing a commitment from them to protecting our refuges!
'But, what about the Liberal Democrats?' we hear you ask.
Well, they are next!
This Saturday marks the start of the Liberal Democrat Party Conference and we are going to be sending them our SOS signals using the hashtag #ldconf14 all week! Please join us, tweet your SOS signals with the #ldconf2014 hashtag. If you have a Liberal Democrat MP please tweet them your SOS signal. We are working on setting up meetings with lots of Liberal Democrat Ministers and MPs so your support is much appreciated!
Please continue to support the SOS campaign through twitter, Facebook and even good old fashioned talking to people about it. We CAN win this.
To keep really up-to-date with the SOS campaign follow us on Twitter @womensaid. Go on.
Best wishes,
Women's Aid
New video…
---
Tony's first book available NOW!
Seeing The World My Way
A totally blind and partially deaf guy's global adventures
Seeing the World My Way follows Tony Giles' journey of hedonism and thrill-seeking adventure as he travels across North America, Asia and Australasia. Full of drama, danger and discovery, this fascinating travel biography is a young blind man's view of the world as he sets out to achieve his dream, dealing with disability whilst living life to the limit.
From bungee jumping in New Zealand to booze filled nights out in New Orleans, Seeing the World My Way is a no-holds-barred account that is certainly not for the faint hearted. Travel the world in a whole new way with Tony Giles' frank, honest and exhilarating romp through one adrenaline-fuelled experience after another.
Paperback published by SilverWood Originals. Price £8.99. ISBN 978-1-906236-38-0. 224 pages.
Seeing The World My Way is available to order from most bookshops, on Amazon, and directly from the publisher at silverwoodbooks.co.uk/my-way.
An e-book is also available. It can be purchased in Kindle format from Amazon.co.uk for just £2.16. If you live outside the UK, the e-book is also available on Amazon.com, and other Amazon country sites. It is available in EPUB format from Kobo.
Available in Braille from the RNIB Library. More details here.
All money Tony receives will go direct to a charity for people with Muscular Dystrophy.