Welcome to the exciting website of Tony Giles – blind world travel extraordinaire.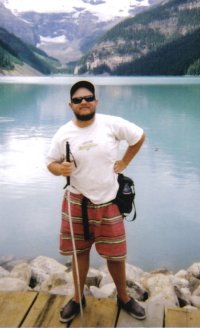 Tony on the shore of Lake Louise in the Rocky Mountains, Alberta, Canada.
I am a young person, totally blind and 80% deaf in both ears without my hearing aids. I also had a successful kidney transplant in December 2008. Yet I have visited all seven of the World's continents. I have completed the goal of visiting all fifty states of the USA. I have also crossed the Arctic Circle, visited every country in South America, and all 10 Canadian provinces.
I originate from Weston-super-Mare, near Bristol, in the South West of England. At present I live in Teignmouth, Devon.
I have written several books about my world adventures. The books are travel diaries of the observations and experiences of a blind man as he travels around the world.
Other languages: Español, Italiano
What's New (29th August 2014)
---
Travel writing
A new mini-site has been created dedicated to my travel writing: Tony Giles – Blind Author and Travel Writer.
Seeing The World My Way, the first in a trilogy of travel biographies, was published in October 2010. I plan to self-publish my second book, travels in north-south America, later this year.
---
News
Fundacja Imago Maris – sailing opportunities for blind and visually impaired people
(21st August 2014)
Polish organisation offering sailing opportunities for blind and visually impaired people to participate alongside sighted crew members out at sea on tall sailing ships for an experience of a lifetime.
I has become an honorary patron and support this venture in helping visually impaired people to enjoy the sea and wind and notions of
working on a ship with all the varying experiences it can bring – an amazing opportunity to meet different people, gain greater confidence, improve skills and make friends. I salute this enterprise.
Check out their websites and contact details below:
Fundacja Imago Maris
Telephone: +48 602 350 995
Email: e.skrzecz@imagomaris.eu
Websites: www.imagomaris.eu (English) www.imagomaris.pl (Polish)
Update
(28th July 2014)
Tony is now in Lithuania dancing in night clubs in Vilnius, the capital city with its many churches and has now travelled by train to Kaunas, the second city and once briefly capital of Lithuania between 1918-1940. Tony also visited the KGB museum in Vilnius – fascinating and terrifying!
Tony in Poland
(13th July 2014)
Tony and Tatiana are travelling around Poland promoting his book. Interviews with journalists and TV occurring soon.
Choice Words, AMI-audio, Canada
(12th June 2014)
New radio programme on the theme of accessible travel. Includes excerpts from Tony's book. Highly recommended!
More details on the AMI-audio website.
Listen here:

Back home
(12th June 2014)
I'm now safely home in my small seaside apartment in wonderful Devon, UK. I've just finished a fascinating and eventful trip through Greece, Turkey, Romania, Ukraine and Republic of Moldova. Some journeys were undertaken with beautiful Tatiana and others were conducted alone. Thank you to all the kind and wonderful people I've met for helping make the journey fun and interesting. Thanks for your kindness and friendship along the way. Happy adventures to one and all.
So now it's a brief rest before it all begins again, this time starting in Berlin, Germany!
New video…
---
Tony's first book available NOW!
Seeing The World My Way
A totally blind and partially deaf guy's global adventures
Seeing the World My Way follows Tony Giles' journey of hedonism and thrill-seeking adventure as he travels across North America, Asia and Australasia. Full of drama, danger and discovery, this fascinating travel biography is a young blind man's view of the world as he sets out to achieve his dream, dealing with disability whilst living life to the limit.
From bungee jumping in New Zealand to booze filled nights out in New Orleans, Seeing the World My Way is a no-holds-barred account that is certainly not for the faint hearted. Travel the world in a whole new way with Tony Giles' frank, honest and exhilarating romp through one adrenaline-fuelled experience after another.
Paperback published by SilverWood Originals. Price £8.99. ISBN 978-1-906236-38-0. 224 pages.
Seeing The World My Way is available to order from most bookshops, on Amazon, and directly from the publisher at silverwoodbooks.co.uk/my-way.
A Kindle download is also available. It can be purchased for just £1.85 on Amazon.co.uk. If you live outside the UK the e-book is also available on Amazon.com and other Amazon country sites.
Available in Braille from the RNIB Library. More details here.
All money Tony receives will go direct to a charity for people with Muscular Dystrophy.