Bienvenidos a la pagina web de Tony Giles, ciego que viaja por todo el mundo.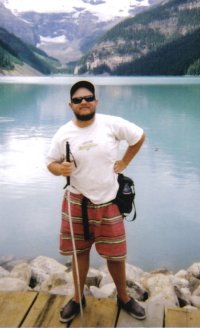 Tony on the shore of Lake Louise in the Rocky Mountains, Alberta, Canada
Soy un joven completamente ciego y sordo en un 80 por ciento de ambos oídos sin mi audífono. También recientemente tuve un transplante de riñón debido a una insuficiencia renal.Sin embargo he visitado cada continente poblado. Recientemente he completado el objetivo devisitar todos los cincuenta estados de USA. También he cruzado el Circulo Polar Artico y visitado todas las provincias canadienses. My proximo desafio es ir a la Antartida.
Soy originario de Weston-super-Mare en el Sur Oeste de Inglaterra. Ahora vivo en Teignmouth, Devon.
Actualmente estoy escribiendo varios libros sobre mis aventuras en el mundo. Los libros son diarios de viaje de las observaciones y experiencias de como un ciego viaja alrededor del mundo.