Benvenuti all'entusiasmante sito di Tony Giles, cieco che gira il mondo.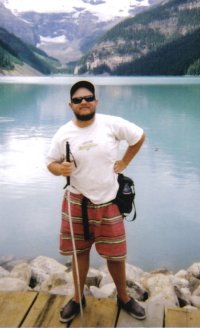 Tony on the shore of Lake Louise in the Rocky Mountains, Alberta, Canada
Sono un giovane totalmente cieco e sordo all'ottanta per cento da entrambe le orecchie, senza l'ausilio di un apparecchio acustico. Recentemente ho anche dovuto sottopormi a un trapianto di rene, a causa di un'insufficienza renale. Nonostante cio', ho visitato da solo ogni singolo continente popolato. Hoda poco raggiunto l'obiettivo divisitare tutti e 50 gli stati degli USA. Ho anche passato il circolo polare artico e visitato tutte le dieci province canadesi. Il mio prossimo obiettivo é raggiungere l'Antartide.
Sono originario di Weston-super-Mare nell'Inghilterra sudoccidentale e al momento vivo a Teignmouth,in Devon.
Sto scrivendo diversi libri sulle mie avventure in giro per il mondo. Si tratta di diari di viaggio che raccontano le esperienze di un cieco che gira ilmondo.