Welcome to the exciting website of Tony Giles – blind world travel extraordinaire.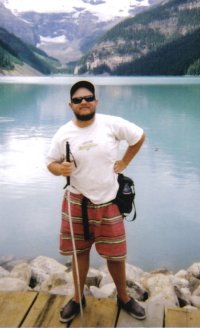 Tony on the shore of Lake Louise in the Rocky Mountains, Alberta, Canada.
I am a young person, totally blind and 80% deaf in both ears without my hearing aids. I also had a successful kidney transplant in December 2008. Yet I've visited the World's Seven continents, all fifty states of the USA, crossed the Arctic Circle, travelled in every South American country and visited all ten Canadian provinces.
I originate from Weston-super-Mare, near Bristol, in the South West of England. At present I live in Teignmouth, Devon.
I have written several books about my world adventures. The books are travel diaries of the observations and experiences of a blind man as he travels around the world.
Other languages: Español, Italiano
What's New (30th May 2017)
---
Travel writing
A new mini-site has been created dedicated to my travel writing: Tony Giles – Blind Author and Travel Writer.
Seeing The World My Way, the first in a trilogy of travel biographies, was published in October 2010. The second part, Seeing The Americas My Way, followed as an ebook in September 2016.
---
News
Now in Sendai.
(24th April 2017)
Tony and Tatiana are now in Sendai, Tohoku region, north-east Honshu, main island of Japan.
Country 122
(19th April 2017)
Tony is now in Tokyo, Japan with Tatiana – Tony's 122nd country!
Now in Senegal
(10th April 2017)
Tony is now in Senegal and almost at the end of his two month trip across West Africa. After spending a few days in Ouagadougou, the capital of Burkina Faso, he headed south west spending a couple of relaxing days in Bobo before heading to Banfora where he visited a waterfall, walked in mountain foothills and climbed inside a large baobab tree.
A long bus ride took him to Bouake, the central point of Cote D'Ivoire – country number 120. He spent a couple of days in local company before a short bus trip took him to Yamoussoukro, the countries political capital. Here is allegedly the largest Christian church in the world! After a brief tour, including climbing 11 storeys to enjoy the fresh air, Tony and his local host visited a few other attractive buildings before Tony headed to Abidjan – Ivory Coasts largest city and economic capital. Several days were spent there waiting for the embassy of the republic of Guinea to decide to give Tony a visa before he embarked on his adventurous journey across the more difficult parts of West Africa. A one day bus ride to the small town of Sipileu close to the Republic of Guinea border turned into a 26 hour adventure. This included many stops and changing buses three times. At one point Tony was put in a taxi but not informed of his destination! Finally the bus conductor took him to a small building at 6am and said "bus Guinea border" in broken English.
12 exhausting hours later, after bumping along on non-existent roads, Tony passed into Guinea republic and by midnight was at the small market town of N'zerekore. He spent one brief night with a kind host who helped him find a shared taxi which took him across the entire width of the country to Conakry, Guineas capital. This was another lengthy journey of more than 20 hours. Another kind African host offered him a hot meal and a comfy bed for the night.
The next day, Tony and his friend visited the Guinea Bissau embassy where Tony obtained his visa in less than 10 minutes and headed to find a shared taxi to Bissau. A journey that should have taken roughly 12 hours along reasonably good roads turned into a nightmare of a journey which in total took 50 hours!!
Once in Bissau, Tony had two brief nights in the capital before heading to his penultimate destination of Abene, south Senegal. In three days he heads to Dakar where the trip will conclude. Happy travels, Tony.
Update from Burkina Faso
(31st March 2017)
After posting my last blog about Ghana I have been rather busy. Sitting on crocodiles and visiting yet another slave camp in Paga on the Ghana-Burkina Faso border and also traditional villages with interesting carved houses. After leaving Ghana I made a simple border crossing into quiet peaceful Burkina Faso, country 119. With help I travelled some 20 km to the small uninteresting town of Po. Two kind people actually gave me a free motorbike ride from the border to the town. I stayed at the Hotel Tiandora Esprerance. I was most likely overcharged for the room and a bottle of water. One guy spoke reasonable English and offered to take me by motorbike to the small famous picturesque village of Tiebele some 32 km distance. I was also heavily overcharged for this, having to pay for the bike, petrol, his time and allegedly to take photos at the village in people's houses. I found out later this was not correct and he took advantage. However the guy was friendly and I had an interesting experience. Tiebele is an extremely old traditional village of southern Burkina Faso, but unlike most other villages in Burkina that have houses made of basic mud brick and no decoration, Tiebele is different and unique. I was able to feel the various shapes and patterns moulded into the outside of the adobe houses and the different textures of paint. Their houses are in many shapes and styles, but mainly they have a tiny semi-circular doors for entry and one has to crawl inside before climbing over a brick step before being able to stay. Inside are simple rooms …
[Unfortunately Tony's message got truncated at this point. We will try to add the rest later…]
Country 119
(15th March 2017)
Tony is now in Burkina Faso, country 119.
Ghana
(6th March 2017)
I've been in Ghana, country 118, for about two weeks now. Sweating the heat, relaxing on the south coast beaches and exploring the history at Elmina, Cape Coast, Princes Town and Beyin. I've stayed with some interesting local people via couch surfing. My first host, Charles, from Nigeria, took me to visit the Kwame Nkrumah Memorial and told me a little of the history. He was Ghana's first president and helped the country gain independence from the British in 1957. After Accra with its heavy traffic, smells and fumes of many taxis and trotros (minibuses), it was time to head inland to the Volta region. I stayed one night in a small town called Dzodze, pronounced Je je. This is where I met Albert, a really cool guy. We travelled up to Hohoe together and visited Wli waterfall, spectacular. Here we encountered a lovely Swedish girl, who is volunteering in some organisation. Then back to the coast and onto the forts. After exploring these slave castles with their deep dark past I headed once again inland, my destination being Kumasi. This should have been a fairly easy journey. However, it turned into an adventure. I first took a trotro from the small coastal town of Axim to Takoradi, this was no problem apart from nearly crashing at one point! Once in Takoradi, I changed to a big bus with air conditioning. This is where the fun began. First it took more than two hours for the bus to fill, then once on the road, we drove to Cape Coast, however, on reaching this destination, the coach promptly broke down and refused to start! Eventually, a second bus, smaller and lacking comforts was found, however, I was nearly left behind as the bus staff kept taking me from one bus to another and back again. A seat was finally found and some twelve hours after departing Axim, I arrived hot and tired in Kumasi. The next problem was contacting my couch surfer. He hadn't contacted me all day to confirm my stay. My battery on my phone had died, so no news. I was able to charge my phone, but unable to get hold of my host. I eventually contacted a friend I had stayed with previously and he contacted his brother who was able to host me and collected me. Two days later, I headed to Sunyami. My next stop is the heat of Tamale before crossing into Burkina Faso and continuing the journey. Tony the Traveller!
Country 118
(19th February 2017)
Tony has now landed in Accra, capital of Ghana, West Africa. His epic journey around West Africa is about to begin, he is now in country 118.
New video…
---
Tony's books and ebooks
Seeing The Americas My Way
NEW! Published September 2016
Tony's second fascinating travel biography offers a more sensory observation of backpacking. From the sounds, smells and cuisine of Brazil and Argentina to the rhythm of salsa in Cuba. Mexico, Chile and Uruguay are also briefly explored.
Whilst there are the usual adrenaline fuelled activities associated with this author in the United States and Canada, the main thread of the story deals with a personal challenge of compromising between love and friendship.
It is a journey of self-discovery with a focus on spartan nature and isolation as a guidance to help the author resolve his emotional problems.
Continue following Tony's unique wanderings to discover where he will lead you!
Ebook published September 2016. ISBN 9781912022625.
Available from Amazon (Kindle), Apple, Kobo and Google Play.
Seeing The World My Way
A totally blind and partially deaf guy's global adventures
Seeing the World My Way follows Tony Giles' journey of hedonism and thrill-seeking adventure as he travels across North America, Asia and Australasia. Full of drama, danger and discovery, this fascinating travel biography is a young blind man's view of the world as he sets out to achieve his dream, dealing with disability whilst living life to the limit.
From bungee jumping in New Zealand to booze filled nights out in New Orleans, Seeing the World My Way is a no-holds-barred account that is certainly not for the faint hearted. Travel the world in a whole new way with Tony Giles' frank, honest and exhilarating romp through one adrenaline-fuelled experience after another.
Ebook (second edition) published December 2016. Available from all major ebook stores, including Amazon.co.uk, Apple iTunes and Google Play.
A Polish language print edition can be purchased from Prószyński Media. Braille and audio Daisy format editions can be loaned or purchased from the RNIB.
Seeing the World My Way was first published in November 2010 as a paperback by SilverWood Originals. ISBN 978-1-906236-38-0. 224 pages. This edition is now out of print.